Grilling a baked potato is a delicious way to enjoy the savory flavor of potatoes. But how long should you microwave a potato before grilling it? Luckily, there are simple steps you can take to ensure your potato will be cooked through and have that great grilled taste. In this article, we'll discuss how long you need to microwave a baked potato before grilling it for optimal results.
Grilled potatoes are an easy and tasty side dish for any meal. To get them just right, however, you need to make sure they're pre-cooked in the microwave before throwing them on the grill. Microwaving your potatoes helps cook them quickly so they don't turn out tough or underdone when you put them on the hot grill. Knowing exactly how long to microwave your potatoes can help prevent overcooking or burning and give you perfectly cooked potatoes every time!
Preparing Potatoes For Grilling
When preparing potatoes for grilling, it is important to pay attention to the type of potato being used and how it has been stored. There are several varieties of potatoes that can be grilled, such as russet potatoes, Yukon golds, sweet potatoes and red-skinned potatoes. Depending on which variety you choose, different preparation techniques may be needed.
When storing potatoes prior to grilling them, make sure they are kept in a cool, dark place with good air circulation. Do not store them near onions or other produce that emits ethylene gas as this will cause them to spoil faster. If possible, keep the temperature between 45-50F (7-10C) degrees for optimal shelf life.
Grilling times vary depending on size and type of potato; smaller ones generally take around 7 minutes while larger ones could take up to 15 minutes. To ensure even cooking, preheat your grill before placing the cut potatoes on it and turn occasionally until desired doneness is reached.
Choosing The Right Potatoes
When it comes to preparing potatoes for grilling, the microwave is a great tool. It can quickly cook them so that they are ready for the grill in a fraction of the time compared to other methods like baking or boiling. Now that you know how long to microwave your potatoes before grilling, it's important to select the right kind of potato based on its variety and selection.
Baking potatoes come in different varieties such as Russet, Yukon Gold or Red Bliss. Each one has its own flavor profile, texture, and cooking time when heated. When selecting which type of potato you need for grilling, consider what kind of dish you'll be making with them – whether it's mashed potatoes, crispy fries or roasted wedges. With all these options available, there's something suitable for every occasion!
The best way to maximize flavor while still having an evenly-cooked potato is by pre-cooking it in the microwave first. This will help ensure that each piece is cooked through before being thrown onto the grill at high temperatures. By following this method, you'll have perfectly grilled potatoes without any charred edges – just deliciousness!
Microwave Settings And Timing
Cooking a baked potato before grilling it is an effective way to prepare your meal. Microwaving the potato helps reduce cooking time and ensures that the inside of the spud cooks thoroughly, while allowing you to get a nice char on the outside when you put it on the grill. Here are some tips for microwaving a baked potato quickly and effectively.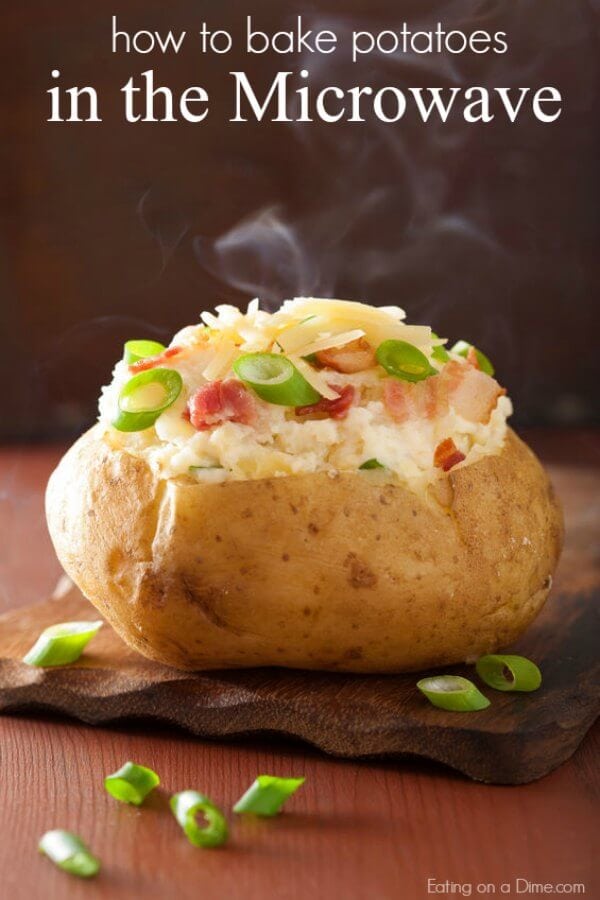 When microwaving a baked potato, aim for around 3-4 minutes per side. This should be enough time to heat up any cold spots in the middle of the potato without overcooking or burning its skin. To further speed up cooking times, try poking holes into each side of the spud with a fork or knife before placing it in the microwave. Doing this will allow steam to escape as it's cooked, thus reducing overall cook time. Finally, remember to use appropriate cooking methods – like using medium power settings – when microwaving food so that all ingredients are cooked properly without being exposed to too much heat at once.
Whether you're following a recipe or just heating something up quickly, these simple tips can help ensure that your microwaved potatoes come out perfectly cooked every time!
Testing Your Potatoes For Doneness
Once you have set your microwave to the correct settings and timing, it is time to test for doneness. To ensure that your potatoes are cooked through and ready for grilling, remove them from the microwave and carefully pierce with a fork in several places. If they give easily under pressure, then they are done cooking. Be sure to use caution when handling hot potatoes!
It's important to note that microwaving can vary depending on size of potato and amount of moisture inside. For best results, allow some extra time if needed once testing for doneness. Make sure that all potatoes reach an internal temperature of at least 165°F in order to achieve safe serving temperatures.
When finished testing, you will be ready to move onto the next step: transferring your baked potatoes over to the grill. With careful attention paid to cook times and temperature control while grilling, you can serve up delicious grilled potatoes worthy of any meal or occasion!
Grilling Your Baked Potatoes
Once you have your baked potatoes, it's time to move on to the grilling! While pre-cooking in a microwave is an efficient way of preparing them for their final cooking process, the delicious crunch and smokey flavor that comes from charbroiling your potato can't be beat. To get the best results when grilling, it's important to make sure your charcoal fire has reached a high enough temperature before adding the potatoes – around 400 degrees Fahrenheit will do.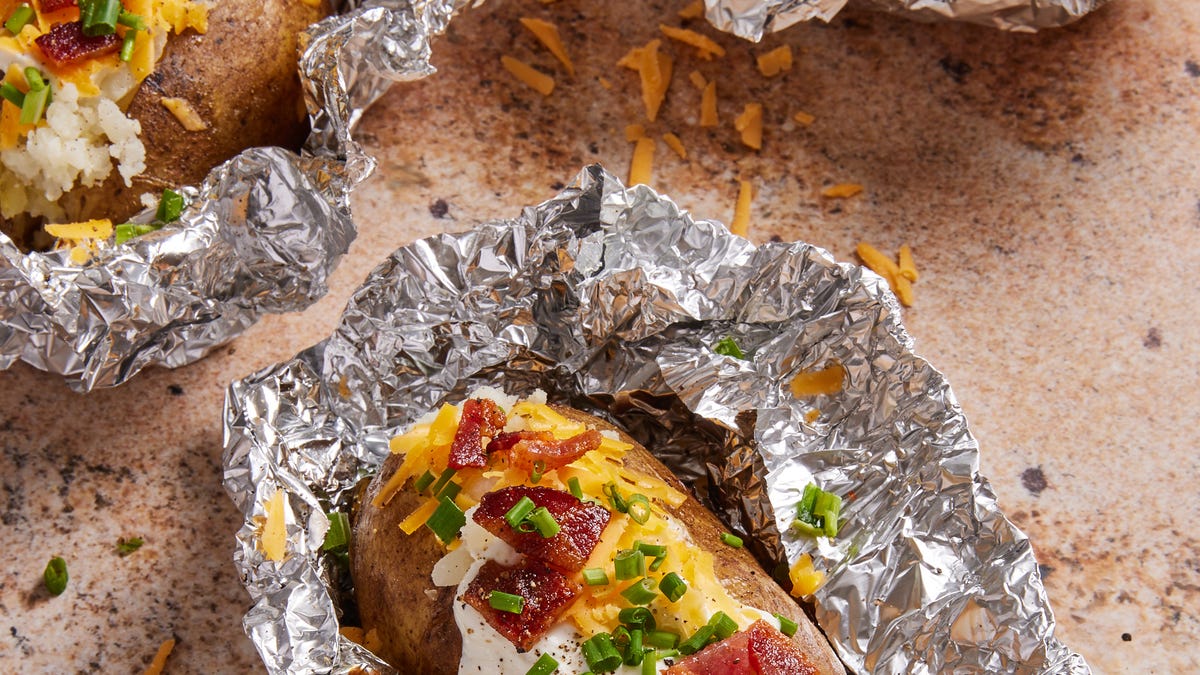 Cooking at a lower temperate than this could result in over-cooked skins and undercooked insides. When they are added, turn regularly with tongs or spatula to ensure all sides cook evenly. A few minutes each side should yield perfectly grilled potatoes – crispy outside and tender inside. Potatoes cooked this way pair well with any of your favorite condiments or toppings; enjoy!
Frequently Asked Questions
Is It Better To Bake Or Microwave A Potato Before Grilling?
When it comes to grilling a potato, there is no one-size-fits-all answer. It really depends on the individual's preferences and what they're looking for in their end result. Generally speaking, baking or microwaving potatoes before grilling them allows for better control over how much moisture is retained in the potato while cooking. This can help keep your grilled potatoes from becoming too dry or burnt. Storing your potatoes correctly also helps prevent them from drying out too quickly when exposed to high heat during grilling. Ultimately, the decision of whether to microwave or bake a potato before grilling should be based off of personal preference and desired results.
What Type Of Potato Is Best For Grilling?
Potatoes are a versatile and delicious side dish, with many varieties suited to grilling. When selecting the best potato for grilling, consider storing potatoes in the refrigerator, as this can affect their flavor. Russet potatoes or Yukon golds are ideal types of potatoes for grilling because they have higher starch content and don't disintegrate easily when cooked. Before grilling your potato, pre-cook it by baking or microwaving until tender and then lightly oiling it before placing on the grill. Grilled potatoes also benefit from seasonings such as salt, pepper, garlic powder, and herbs like rosemary or thyme. With these tips in mind, you'll be able to create perfectly grilled potatoes every time!
Is It Necessary To Wrap The Potato In Foil Before Microwaving?
When it comes to microwaving potatoes before grilling, the answer is yes – wrapping a potato in foil prior to microwaving will help ensure the best results. Wrapping the potato in foil helps preserve moisture and prevents overcooking. The microwave time and cooking temperature needed for a baked potato depend on its size; usually about five minutes per side at full power should be enough. To make sure your potato is cooked through, you can check with a fork or knife; if it's tender, then it's ready!
Can I Season The Potato Before Microwaving?
It is certainly possible to season a potato before microwaving, however it is important to keep in mind that the cooking time and temperature may vary depending on which seasoning you choose. For instance, if you opt for a salt-based seasoning like garlic powder or paprika, then the recommended microwaving time would be shorter than usual due to its high sodium content.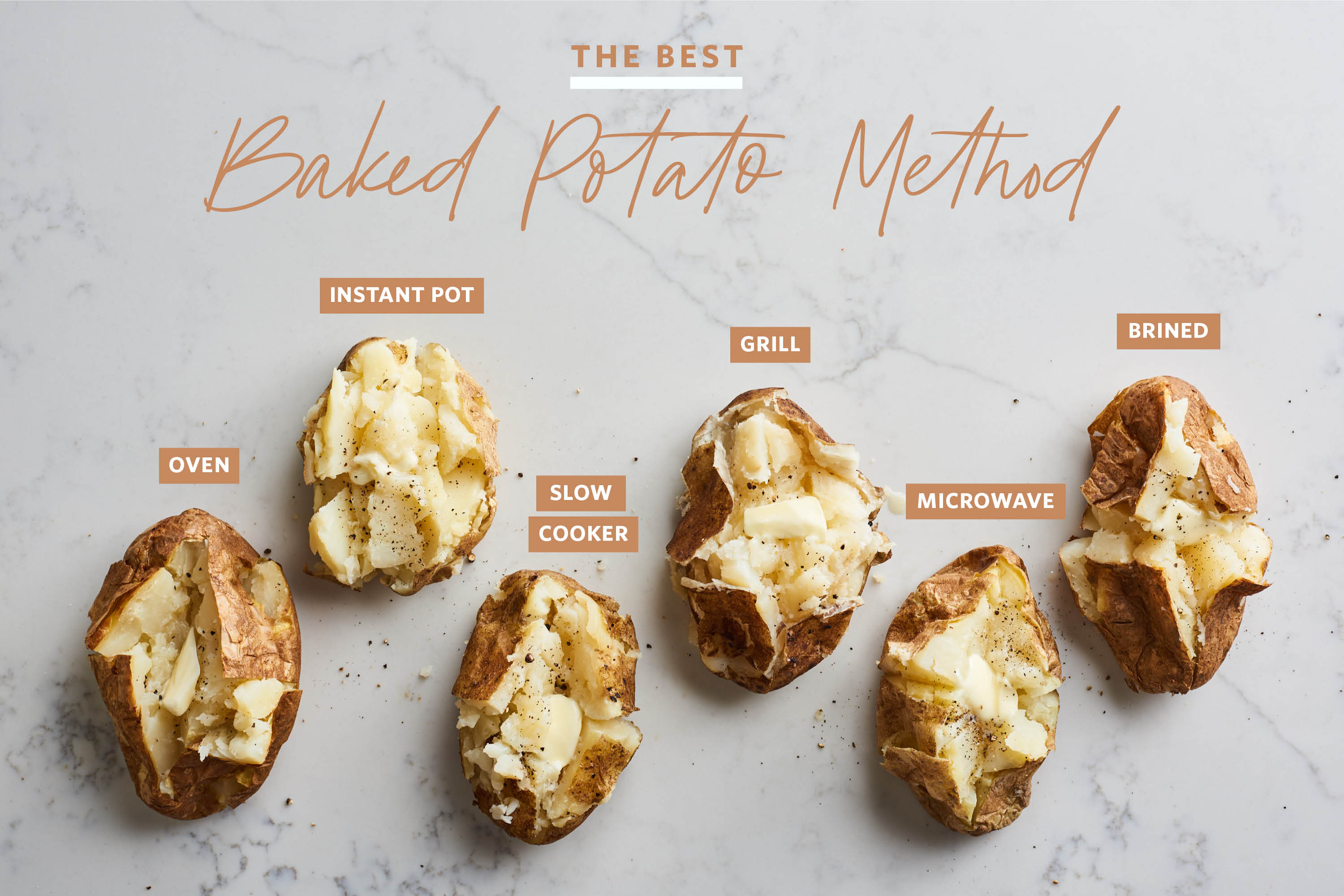 On the other hand, if your chosen seasoning has more natural herbs and spices such as oregano or basil, then the recommended cooking temperature could remain at around 350°F (177°C). In any case, it's always best practice to check with a food thermometer after microwaving the potato just to ensure everything is cooked evenly throughout.
Can I Add Additional Toppings To The Potato Before Grilling?
You can absolutely add additional toppings to the potato before grilling. This is a great way to experiment with different flavor combinations. The key to successful cooking of the potato is in how you season it and prep it beforehand. If you decide to microwave your potato first, be sure not to overdo it: 3-4 minutes should do the trick. When grilling after microwaving, cook on medium heat for about 8-10 minutes until desired crispiness is reached. Adding some butter or olive oil will also help enhance the flavors and create a delicious side dish!
Conclusion
Grilling a potato is a great way to get an extra-crispy exterior without sacrificing the soft interior. Whether you choose to bake or microwave your potato before grilling, it's important to use the right type of spud for best results. Wrapping in foil isn't necessary but can help retain moisture and keep your potato from drying out. Additionally, seasoning and topping your potato before microwaving will give it even more flavor when grilled! All in all, with just a few simple steps, you'll have yourself a delicious side dish that pairs perfectly with any meal. I'm sure you're eager to try this method now – so go ahead and fire up the grill!