Using a microwave oven for the first time can be daunting, but it doesn't have to be. With this guide, you'll learn how to use your new appliance with ease and confidence. Microwaves are incredibly convenient and versatile kitchen tools that make cooking easier than ever before – so don't let fear stop you from getting the most out of yours! Let's get started by discussing the basics: what they do, how they work, and when to use them.
What Is A Microwave Oven?
A microwave oven is a kitchen appliance that uses microwaves to cook food. It has become one of the most popular cooking appliances in modern kitchens due to its convenience, speed and versatility. The main components of a microwave are the door for loading or unloading food, a keypad and display panel for programming settings, an interior cavity where the microwaves enter, and a turntable which rotates the food during cooking so it cooks evenly.
The features of a microwave vary depending on make and model but generally include power levels that allow you to adjust the intensity of your heat source as well as pre-programmed functions such as defrosting, reheating and popping popcorn. Most microwaves also have timers so you can set it up to start cooking at a certain time without having to be there yourself.
When using your microwave oven for the first time, take some time familiarize yourself with all its features and safety guidelines before proceeding. Read through the manual carefully to understand how different power levels affect heating times and what kind of dishes are suitable for use inside the oven. This way you can make sure you get the best out of your appliance while staying safe!
How Does A Microwave Oven Work?
We've all seen and used microwave ovens, but have you ever stopped to wonder how exactly they work? Believe it or not, microwaves are a form of electromagnetic radiation that can be used for heating up food. These radiations penetrate the food molecules, causing them to vibrate rapidly. This vibration creates friction which in turn produces heat – allowing us to cook our favourite meals with ease!
Microwave ovens also require very little energy compared to other cooking methods such as gas stoves or electric ranges. The main benefit lies in their convenience and speed; they can help save time while preparing delicious dishes. Additionally, these appliances come with plenty of pre-programmed settings so users don't even need to worry about adjusting the temperature according to what's being cooked.
The appliance is designed in such a way that the waves produced within its chamber are contained, thus ensuring that no radiation escapes into the environment outside. With this technology at hand, we're able to enjoy hot and nutritious meals without having to wait too long!
When Should You Use A Microwave Oven?
1. When it comes to microwave cooking, there are certain types of food that are suitable for this method, such as vegetables, fish and pasta dishes.
2. It's important to remember safety tips when using a microwave oven, like not putting metal in the oven and making sure food is cooked evenly before consuming.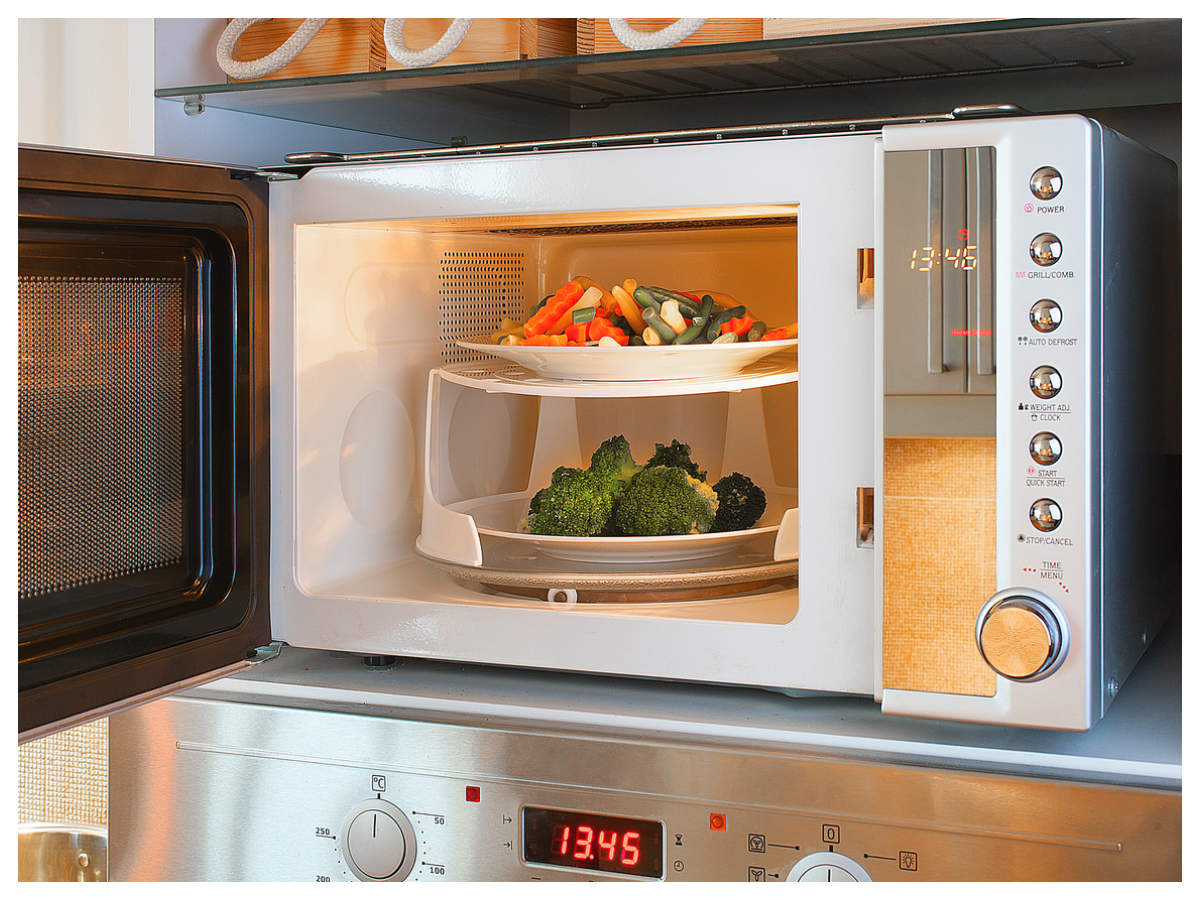 3. To get the most out of your microwave oven, you should read the instructions that come with it and familiarize yourself with the different settings.
4. There are also a few tips you can use to ensure your food is cooked properly, such as using a glass or ceramic dish and stirring the food during the cooking process.
Types Of Food Suitable For Microwave Cooking
Are you wondering when to use a microwave oven? Well, it's great for quickly heating up and cooking many types of food. From pre-packaged frozen dinners to complex microwave recipes, this appliance can be used in various ways. Different cooking techniques are needed depending on the type of food you're preparing. For example, fish dishes should be covered with plastic wrap or wax paper and vegetables should be cooked in small amounts of water. Microwave baking is also possible using special pans that are made specifically for this purpose. Soups and stews work well too! With its versatility, the possibilities for creating delicious meals are endless – so don't hesitate to give your microwave some love!
Safety Tips For Microwave Cooking
It's important to keep in mind that microwaves can be hazardous if not used properly. To ensure your safety and maintain the oven, there are some basic tips to follow. Always use microwave-safe dishes when cooking with a microwave; these will help protect you from any radiation exposure. Additionally, make sure to unplug it after each use and give it a thorough clean every so often to avoid overheating or sparks caused by food splatters. Finally, never leave the door open for too long as this would allow heat to escape and potentially start a fire. So remember these simple steps when using a microwave oven – they can go a long way towards keeping you safe!
Tips For Using A Microwave Oven
The first time you use a microwave oven can be intimidating, especially if it is your first kitchen appliance. To properly use one and avoid any mishaps, read the instruction manual or watch an online tutorial for easy setup instructions. It is important to ensure that the oven has proper ventilation when running so heat does not build up in your kitchen. Make sure there are no combustible materials near the oven too as microwaves generate electromagnetic waves which could cause fire.


When reheating food, set the timer correctly according to how much food you're heating and its temperature. Doing this will help prevent overcooking and make sure that meals come out just right! Also, remember to never put metal objects like cutlery into the microwave – they can spark and start a fire inside the oven while also damaging it permanently.
To keep your microwave clean, wipe off any spills with a damp cloth after each use to maintain hygiene levels. Additionally, always close the door gently so it doesn't break or wear down over time from being slammed shut. Following these tips should help you get started on using your new device safely and successfully!
Safety Precautions For Using A Microwave Oven
The previous section highlighted the tips for using a microwave oven. Now, let's discuss some important safety precautions you should take when using one.
First and foremost, make sure that your microwave is properly grounded before plugging it in. If not, electric shock may occur while cooking with the appliance. Also, be aware of the recommended cooking times stated in the instruction manual as well as on any packaging food items that have been specifically designed to be cooked in a microwave oven. This will help ensure that whatever you are preparing does not get over-cooked or under-cooked.
Furthermore, always use only containers designated for microwaves and avoid heating up certain materials like aluminum foil or plastic wrap since they can lead to sparks inside the oven, potentially causing damage and fire hazards. Additionally, keep all combustible materials away from your microwave at least 3 feet away while operating it; this includes paper towels and other flammable objects to prevent potential accidents.
In short, taking these safety precautions will help you achieve successful results when using a microwave oven without any risks involved!
Frequently Asked Questions
What Is The Difference Between A Convection Oven And A Microwave Oven?
The difference between a convection oven and a microwave oven is quite significant. Convection ovens use traditional heat sources such as gas or electric to cook food, while microwaves rely on electromagnetic waves for heating up food quickly. Additionally, convection ovens typically require more power levels than microwaves and also have certain safety precautions that must be taken into account when using them.
What Is The Best Way To Clean A Microwave Oven?

Properly cleaning and safely disposing of a microwave oven is essential to ensure its longevity. The best way to clean it is by heating up one cup of water in the oven for three minutes on high, then letting the steam from the hot water loosen any caked-on food or grease residue. Once cooled off, use a mild dish soap and sponge to wipe down all surfaces inside the appliance before rinsing with warm water. To prevent future messes and odors, be sure to cover food tightly when reheating and always store leftovers properly in airtight containers.
Are There Any Special Features I Should Look For When Buying A Microwave Oven?
When shopping for a microwave oven, it's important to consider the features available. Look for models with safety features such as child locks and automatic shut-offs. Additionally, many microwaves have preprogrammed settings for items like popcorn or pizza that make it easier to use–great if you're new to microwaving! Also keep in mind tips on using your microwave safely, such as not overloading it or leaving food unattended. With these features and guidelines in mind, you can find an oven suited to your needs and be ready to start microwaving with confidence!
What Foods Should Not Be Cooked In A Microwave Oven?
It is important to be aware of the cooking methods and safety precautions when using a microwave oven. Certain foods should not be cooked in a microwave oven as they can cause splatter, release toxins, or become dangerous if heated irregularly. These include eggs in shells, sealed containers like canned food, hot peppers, and whole ears of corn on the cob. It's also best to avoid reheating certain items that contain fat or sugar such as bacon, potatoes with skins on them, frozen dinners, and sauces.
Are There Any Tips For Defrosting Food In A Microwave Oven?
When defrosting food in a microwave oven, it's important to be mindful of safety. To ensure safe defrosting, the first step is to read the product manual for instructions on how long and at what power level to defrost your food. Additionally, make sure that you don't overload or overcrowd the plate or tray, as this can lead to uneven heating and potential burning of some parts of the food. If you're unsure about something while using a microwave oven, err on the side of caution and contact customer service for advice. Following these tips will help ensure that all your food is safely defrosted without any issues.
Conclusion
To sum up, using a microwave oven for the first time can be intimidating. But with a few tips and tricks, you'll soon get the hang of it. First, understand the difference between a convection oven and a microwave oven. Then, make sure to keep your microwave clean by wiping down its interior after each use. When shopping for one, look out for special features that might come in handy like defrosting or auto-cook functions. Lastly, remember not to cook certain foods such as eggs or potatoes inside the microwave – they may explode! With these simple guidelines, I'm confident you'll quickly master how to use your new kitchen appliance with ease.